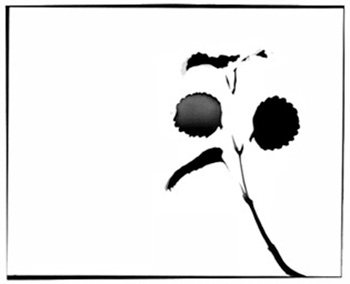 Naturlig Form -1
Jeg lager avtrykk av de små tingene i naturen. Det er de som lager mønstrene i det store land­skapet. Nærheten til motivet når det fysisk ligger direkte oppå filmen skaper et avtrykk mer naturlig enn all verdens dyktige filter­bruk. Lyset i mørke­rommet er en brutal bestrål­ning som skjærer halvveis gjennom tynne groblader og ned på filmen. Bildet blir bevart som en atom­skygge etter at soppskyen har blitt sugd ut av venti­lasjons­systemet.
En serie bilder laget som storformats filmfotogrammer i mørkerommet, uten bruk av kamera.
Natural Design -1
I make prints of the small things in nature. The things that make up the parts of the pattern in the larger landscape. The close­ness to the motif when it is physi­cally touching the film makes an imprint more natural than the fanciest lighting and filter use. The darkroom light brutally cuts through the thinner leaves and draws a perfect line along all sharp contours. The picture is left as an atomic imprint after the mushroom cloud has been sucked out throught the venti­lation system.
A series of images made without a camera but as darkroom photo­grams on sheet film.
Handmade selenium-toned silverhalid fiberprints
Håndlagde selenium-tonet analoge fiberkopier.
Opplag 25 20cmx25 cm
3000 NOK
 
1996-2004